Holy Rosary Cathedral
The Mother Church of the Archdiocese of Regina and Catholic community of southern Saskatchewan. This stately and imposing Cruciform/Romanesque structure was built in 1912 and the cornerstone blessed by the Papal Ambassador on June 29, 1913.
Welcome To The New Holy Rosary Cathedral Website.
Our new website is easy to use and is compatible with new devices like smartphones and tablets.
Our "Home" page provides a quick overview of what's happening in our Parish without requiring you to "dig" for our most current information.
Our Mass Schedule for the upcoming 7 days is now available on every page of our website.
Parish events have been organized into our new Events Calendar.
You will also find information about our Faith in our new Ministries, Education, and Sacraments sections.
Enjoy a 3D tour of Holy Rosary Cathedral as created by Michael Lasko Photography by going to the Links page.
Archbishop Bolen's Weekly Messages
Mass Schedule
Fri

9:00am

Sat

9:00am

,

6:00pm

Sun

9:00am

,

11:00am

,

7:00pm

Mon
No Mass
Tue

9:00am

Wed

9:00am

Thu

9:00am
All Services
Parish Bulletin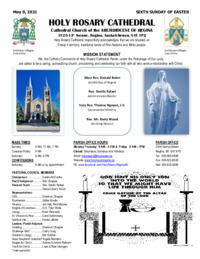 May 8, 2021
Holy Rosary Bulletin 05-09-2021
Mass Registration
Limited to 30 attendees each Mass.
To register please call 306-565-0909; press "0" zero for an attendant.
Attendant available Monday to Thursday from 9 am to 4 pm only.
Please do not leave a message for registration.
Ordination to the Sacred Order of the Priesthood
Live-streamed on May 14, 2021

Upcoming Events
May. 15, 2021

8:00am - 9:00am

Holy Rosary Cathedral

Confession

May. 15, 2021

8:00am - 9:00am
Holy Rosary Cathedral

May. 15, 2021

8:00am - 8:45am

Holy Rosary Cathedral

Adoration & Rosary

May. 15, 2021

8:00am - 8:45am
Holy Rosary Cathedral

May. 15, 2021

9:00am - 9:30am

Holy Rosary Cathedral

Saturday Mass

May. 15, 2021

9:00am - 9:30am
Holy Rosary Cathedral

May. 15, 2021

6:00pm - 7:00pm

Holy Rosary Cathedral

Vigil Mass

May. 15, 2021

6:00pm - 7:00pm
Holy Rosary Cathedral

May. 19, 2021

7:30pm - 9:00pm

Holy Rosary Cathedral

Rehearsal For Gallery Choir (SUSPENDED)

May. 19, 2021

7:30pm - 9:00pm
Holy Rosary Cathedral
More Events
AGM Report 2021
Click to view report
Rebuilding Our Church Capital Campaign